Distribution of green-glazed ceramic ware
Distribution of green-glazed ceramic ware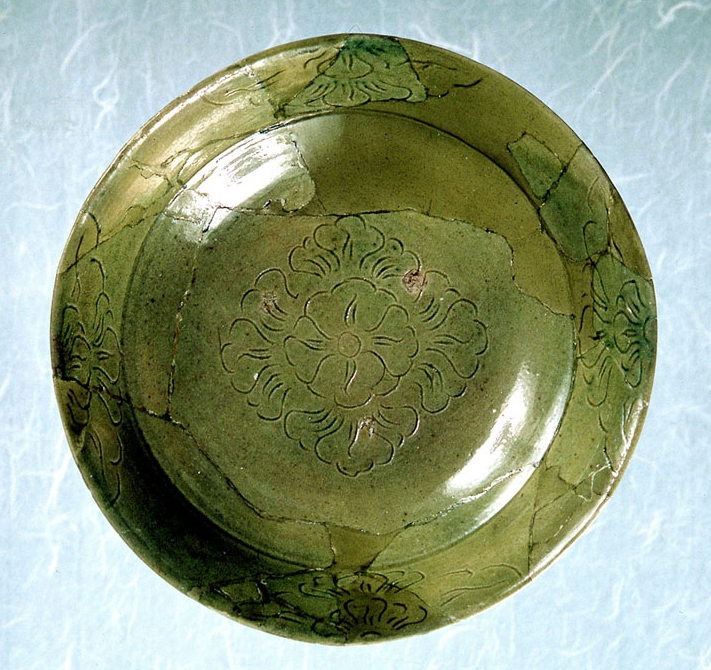 On display here are examples of green-glazed ceramic vessels, which were luxury items produced in ancient Japan. Green-glazed ceramics were used at the Saiku from the 9th century onward. These were produced mainly at kilns located in today's Aichi Prefecture, or areas around Kyoto, suggesting that there was already an established distribution network for delivering green-glazed ceramics from producer to consumer. Green-glazed ceramics dating from the 10th century onward were also increasingly produced in today's Gifu and Shiga Prefectures.
Green-glazed ceramic incense burner and lid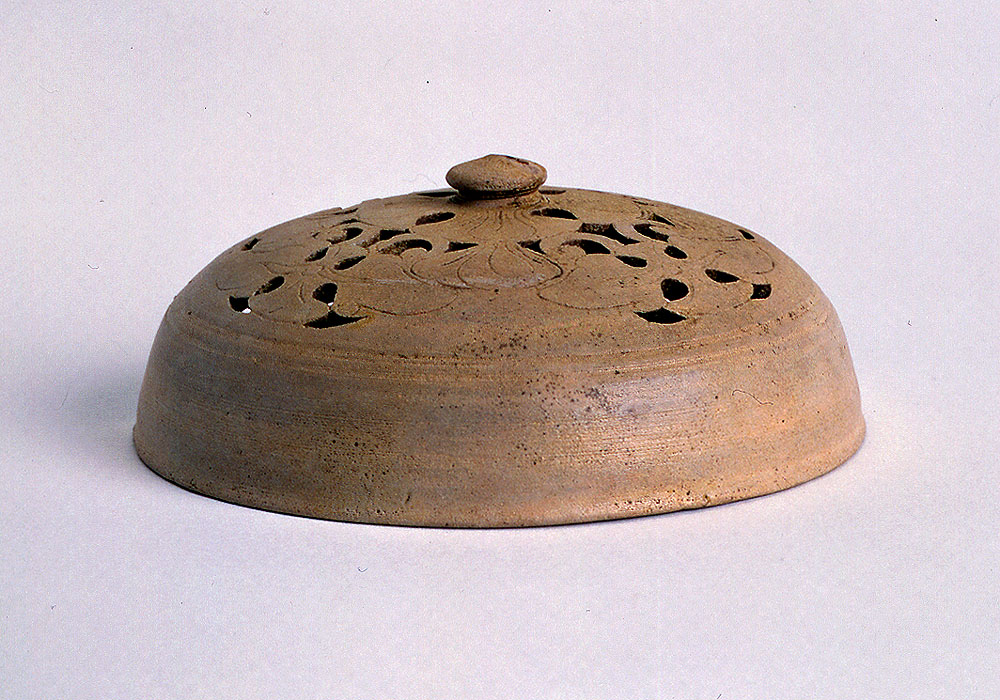 This hemispherical, green-glazed ceramic object with openwork carvings is thought to be an incense burner lid. Incense was part of the self-adornment of aristocrats in the Heian period (late 8th to 12th centuries). Contemporary literature describes how various fragrances were blended to create a scent of one's own, which was transferred to items of clothing. The petal-like openwork in the lid is highly decorative, in addition to functioning as the outlet for incense smoke.
Imported ceramics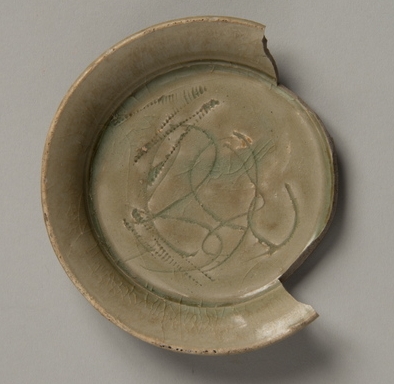 Between the 9th and 11th centuries, the types of ceramic ware valued the most in Japan were celadon porcelain and white porcelain imported from China and the Korean Peninsula. Celadon and white porcelain were especially prized by the aristocracy. The Saiku site has yielded fragments of both types of ceramics. The quantity of imported ceramic ware unearthed from the Saiku site is exceptionally large compared to other parts of the country, with the exception of Kyoto, the location of the capital, and Hakata in Fukuoka Prefecture, where a major trading port was situated. This indicates that these costly ceramic vessels were used by the Saio and her exclusive circle, who brought to the Saiku the privileged lifestyle of the capital.
Ash-glazed ceramics
Ash glaze is a glaze made from straw ash or other types of plant ash dissolved in water. Ash-glazed ceramics were the second most luxurious kind of domestic-made ceramic ware after green-glazed ones. It is thought that Japanese ash-glazed ceramics were made in emulation of Chinese white porcelain. Ash-glazed earthenware vessels were likely for the daily use of the Saiku's government officials. Among the displayed objects is an ash-glazed ceramic vessel inscribed with the word "
mokudai
" written in ink. The inscription is thought to denote "a representative of," or "on behalf of," the governor of Ise province.