10 Museum history and facility guide
History
June 1953:
Opened as the Mie Prefectural Museum.
June 2013:
The Mie Prefectural Museum ordinance was issued. (Enforced on April 19, 2014)
August 2013:
Decided and announced its nickname (MieMu).
Started moving from its old building to the current one. (Finished in January 2014)
March 2014:
The regulation for the enforcement of the Mie Prefectural Museum ordinance was issued. (Enforced on April 19, 2014)
April 2014:
Reopened as Mie Prefectural Museum (MieMu) (The opening ceremony held on April 18 and the grand opening on April 19)
September 2017:
Broke the one millionth visitor mark.
April 2018:
The Mie Prefectural Museum ordinance was revised and the designated management system was partially introduced.
Building overview
Premises
Site area: 38,884 m2
District: Located in a Category 1 low-rise exclusive residential district and a Category 2 residential district
Building
Building area: 6,889 m2
Total floor area: 11,705 m2 (1st floor: 4,760 m2, 2nd floor: 2,125 m2, 3rd floor: 4,637 m2, top floor: 60 m2)
Structure: An earthquake-proof three-story building built of steel-reinforced concrete (partially of reinforced concrete)
Ground level: 18 m
Facility guide
Museum holidays
Mondays (If a holiday falls on Monday, the museum will close on the following day)
New Year holidays (December 29 through January 3)
Some other special holidays
Opening hours
Interactive area
9:00 a.m. to 7:00 p.m. every day (except museum holidays)
Exhibition area (main and special exhibition rooms)
Tuesday through Friday: 9:00 a.m. to 5:00 p.m.
Saturdays, Sundays and public holidays: 9:00 a.m. to 7:00 p.m.
※Last admission to the exhibition rooms is 30 minutes before closing.
Access
To Tsu Station
[By Railway] Get off at Tsu Station (Kintetsu Nagoya Line, JR Kisei Main Line and Ise Railway) and leave the station through the west exit.
※Approximately one hour from Nagoya Station by JR or Kintetsu and approximately one and a half hours from Osaka by Kintetsu
From Tsu Station
[By Bus] At the west exit, get on a Mie Kotsu bus bound for the Mie Center for the Arts or Yumegaoka Danchi and get off at "Sogo Bunka Center Mae" (the Mie Center for the Art). (Only a 5-minute bus ride)
[On Foot] Approximately 25 minutes
By Car
[By Passenger Car or Tourist Bus] Approximately 10 minutes from "Tsu IC" on the Ise Expressway/approximately 15 minutes from "Geino IC" on the Ise Expressway
※Free parking is available.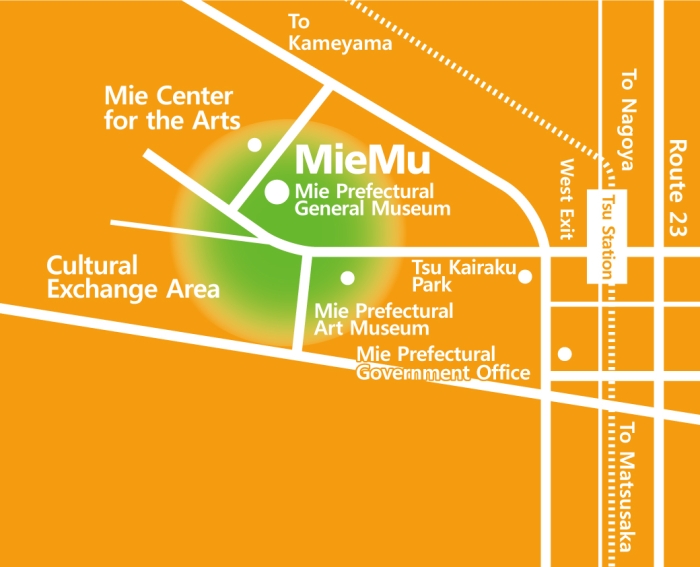 Basic information on the museum
Name: Mie Prefectural Museum (Nickname: MieMu)
Type: Registered museum (general museum)
Opening day: April 19, 2014
Location: 3060 Isshinden Kozubeta, Tsu, Mie 514-0061, Japan
Phone: 059-228-2283(main phone number)
Fax: 059-229-8310
e-mail: MieMu@pref.mie.lg.jp
Website: http://www.bunka.pref.mie.lg.jp/MieMu/
Twitter: @mie_pref_museum
facebook: https://www.facebook.com/mie.pref.museum
Nickname
"MieMu" is the official nickname of the Mie Prefectural Museum, which was chosen from among 1,061 entries. It can be an abbreviation of "Mie's Museum" and sound like "Dreams of Mie" (Mu means "dreams"). As this nickname shows, we hope visitors to our museum can have a deeper affection for and become more proud of Mie and pursue their dreams for the future.
---