THEO JANSEN
15 July to 18 September 2017
Hours and Admissions
Hours: 9:30 a.m. - 5:00 p.m.

Entry is permitted thirty minutes before the galleries are closed.
Closed: Mondays (Open on 17 July and 18 September)/ 18 July

Admission:
Adults: 1,000(800)yen
Students in University/College: 800(600)yen
Students in High school and under: Free
Prices in parentheses are for advance ticket and groups of more than 20 persons.
Persons with disability, one person accompanying them are admitted free of charge.
■Organized by
Mie Prefectural Art Museum, The Chunichi Shimbun, TOKAI TELEVISION BROADCASTING Co.,Ltd., Mie Television Broadcasting Co.,Ltd

■With the support of
Mie Prefectural Art Museum Assistance Foundation

■With the sponsorship of
IMURAYA GROUP CO., LTD., Okasan Securities Company Limited, The Daisanbank LTD., Japan Transcity Corporation, The Hyakugo Bank, Ltd., The Mie Bank, Limited., Mie Kotsu Group Holdings, Inc., Miyazaki Honten co., ltd, BEEF RESTAURANT WADAKIN, KITAISEUENO SHINKIN BANK/ MIE SHINKIN BANK/ KUWANA SHINKIN BANK/ KIHOKU SHINKIN BANK, Syutaikai h.p, Oyamada Memorial Spa h.p, Mie Kenmin Kyosai Seikatsu Kyoudou Kumiai

■With the cooperation of
Kintetsu Railway Co.,Ltd.

■Organized in cooperation with
Media Force Ltd.
About
At Mie Prefectural Art Museum this summer, meet a world-famous Dutch artist, Theo Jansen, and his "Strandbeests -beach animal- ". Strandbeests are giant artificial creatures that can walk by means of the wind power. We explore the fascination of the Jansen's creation with the special exhibits, such as the new series of Strandbeests presented for the first time in Japan, as well as those from the early periods in the 90's and 00's, sketches showing the artist's original ideas, and parts that support their walking mechanism.
This is the first solo exhibition of Theo Jansen in the Chubu-Kinki district of Japan. It will be the perfect experience for the family with kids during summer vacation, and more importantly, the great chance for every visitor to encounter the widely acclaimed contemporary art interplaying with science and nature.
Beltline Bus Service
On 29, 30 July, Saturdays and Sundays in August, Free beltline bus runs from the West Exit of Tsu Station (on the JR and Kintetsu Lines), via the museum, to the special car park in front of Prefectural Office after 1:00 p.m.
The bus runs according to the schedule below.
You can park your car in the parking lot in front of Prefectural Office on 29, 30 July, Saturdays and Sundays in August.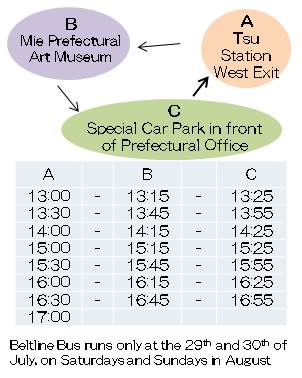 Related Event
Special talk by Theo Jansen
Theo Jansen tells about Strandbeests and lets a Strandbeast walk.

Sunday, 16 July
11:00 a.m.~/ 1:00 p.m.~/ 3:00 p.m.~
At the entrance hall

Special Lecture by Theo Jansen
Theo Jansen shows you the fascination of Strandbeests with movies and pictures.

Monday (public holiday), 17 July
5:15 p.m.~
Lecturer: Theo Jansen
Seating capacity: 145
At the auditorium / Free of charge
*You may take a number at the entrance hall from 16:00 p.m.~
*After this lecture, you may not enter the exhibition because of the closed time.

Animation of the Strandbeests (the moving Strandbeests)
10:00 a.m.~/ 11:00 a.m.~/ 12:00 a.m.~/ 1:00 p.m.~/ 2:00 p.m.~/ 3:00 p.m.~/ 4:00 p.m.~

Held daily while the exhibition is open
*Exhibition ticket is required

Craft Workshop "Let's Make a Minibeest"
You can make a Minibeest and let it run to compete in front of the real Strandbeest.

Saturday, 19 August/ Sunday, 20 August
10:00 a.m.~/ 2:00 p.m.~
Lecturer: NISHIMURA Toshiyuki (Gakken Plus Co.,Ltd.)
At the entrance hall
Capacity of each workshop: 20 (Total: 80)
For age from the 4th grade of elementary school to junior high school
Participation cost: 1,000yen

[How to Apply]
Please fill in the required items below and send a reply‐paid postcard within a period of time.

The required items: name, phone number, age (grade of the school), date and time for the participation, your address
Address: 11 Otani-cho, Tsu-shi, Mie-ken, 514-0007, JAPAN
Mie Prefectural Art Museum (Craft Workshop "Let's Make a Minibeest")
A period of time: Sunday, 30 July
We will inform you of the situation by around Friday, 4 August by reply postcard.






You may find further information about related events on this website or Twitter (@mie_kenbi).